Northwestern University Prosthetics-Orthotics Center (NUPOC) is situated on the Northwestern University medical campus, near Northwestern Memorial Hospital in downtown Chicago. Our center houses several dedicated facilities and labs with exceptional tools, machines and technology to meet our high standards for education and research.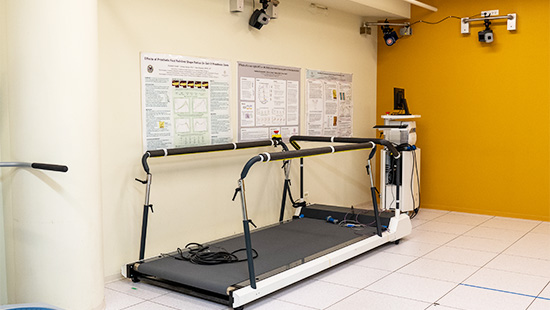 Motion Analysis Lab
The Jesse Brown VA Medical Center Motion Analysis Research Laboratory is a state-of-the-art human movement research laboratory designed especially for making measurements necessary for quantifying human movements.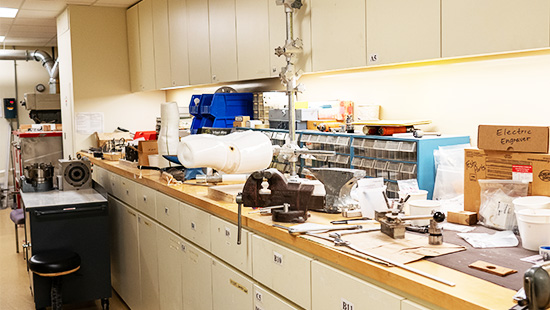 PORTAL
PORTAL, the Prosthetic and Orthotic Technology Assessment Laboratory, is used for in vivo evaluation of upper- and lower-extremity prosthetic and orthotic devices, both commercial and experimental.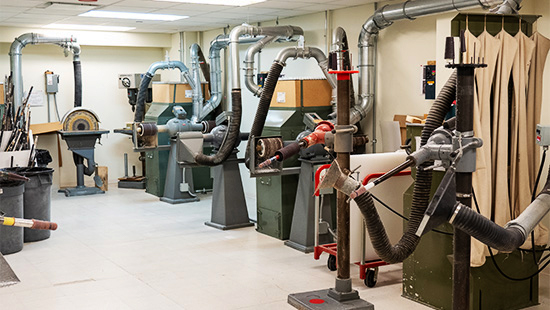 Machine Room
In the Machine Room, we build parts and other devices for faculty, staff and student projects.
Named Facilities
 Ted & Loretta Thranhardt Hall
The Thranhardt Hall welcomes students, scientists, educational models and other visitors to NUPOC. This central hall begins at our reception area and entry foyer, where exhibits illustrate the intersection between art and science, and leads to the open lounge with a panoramic view of Lake Michigan. The dedication, "In grateful appreciation of Ted and Loretta Thranhardt for their generous support of NUPOC," has a prominent place in our central hall.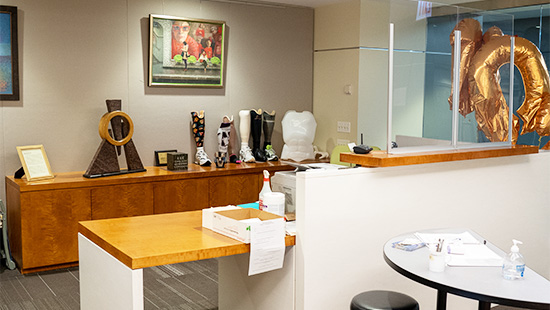 Dr. Dudley S. Childress Research Commons
The Dr. Dudley S. Childress Research Commons is the site of weekly seminars, symposia, lectures, meetings and luncheons, as well as special public education events. The Childress Research Commons can seat 50 participants and is the site where NUPOC conducts outreach programs for youth who are considering careers in P&O and in science, technology, engineering and mathematics.
The Childress Research Commons commemorates the 33-year tenure of Childress, professor emeritus of Physical Medicine & Rehabilitation and Biomedical Engineering, "in grateful appreciation to Dr. Dudley S. Childress for his faithful service, unwavering dedication and lifetime contributions to prosthetics and orthotics education and research." Childress' innovations have enabled and empowered generations of individuals with disabilities to live with dignity and greater independence. His work inspires future leaders in rehabilitation engineering and P&O.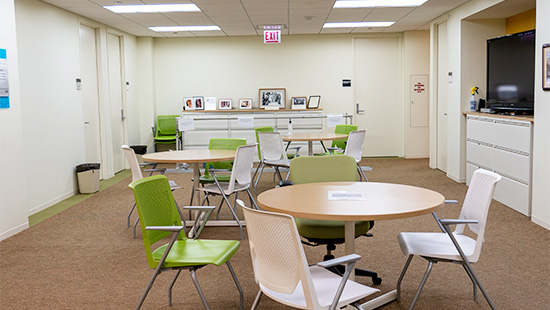 In Memory of Catherine Leimkuehler PEL Supply Manufacturing Laboratory
This spacious multipurpose room is a generous gift "in memory of Catherine Leimkuehler PEL Supply Company Manufacturing Laboratory." The space is used as a clean assembly lab, for orthotics casting, lecture-demonstrations, critique and many other activities. The benches are mobile, enabling an easy reconfiguration of this space to accommodate changing educational and research requirements.
 Renee & Dr. Elliot J. Roth & Family Clinical Assessment Room
Renee and Dr. Elliot J. Roth and Family Clinical Assessment Room is used in multiple configurations for clinical assessment, lectures, P&O fittings and evaluations. Versatility is a prominent feature of this space. The examination tables are fitted with cushions that can be flipped down, allowing students to use the table as a traditional desk surface. Also, the two large screens can extend audio-video coverage of programs taking place in the Smart Classroom.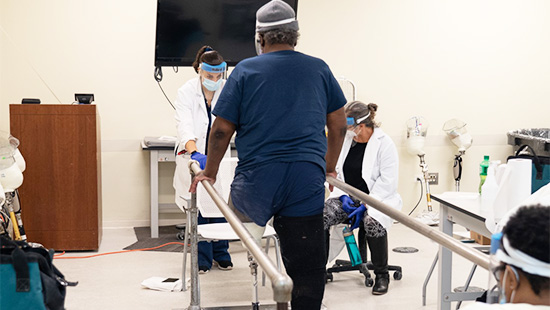 Scheck & Siress Prosthetics Inc. Smart Classroom
Scheck & Siress Prosthetics Inc. Smart Classroom is recognized "with grateful appreciation for their generosity." Wired for up-stream and down-stream live video conferencing, the Smart Classroom represents a core facility where we film our lectures for distance education, present on-site P&O lectures, supplementary Lunch and Learn lecture-demonstrations, continuing education programs and multiple other symposia. The Smart Classroom can be reconfigured from lecture space to in-the-round discussion, examination and demonstration space.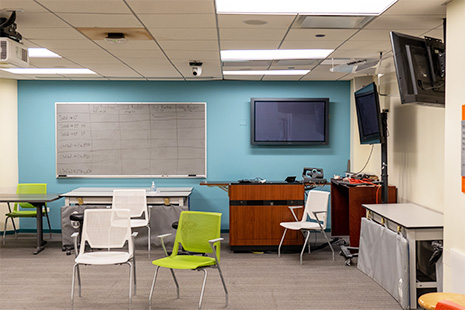 Marita Dorsch Carozza Student Lounge
NUPOC appreciates the generous gift of the Marita Dorsch Carozza Student Lounge. The student lounge is well-appointed with plush, comfortable furniture, secure lockers, refrigerator and big screen TV.
Tables may be used for dining or study. With an expansive view of Lake Michigan, students use the lounge to study, eat, socialize and relax.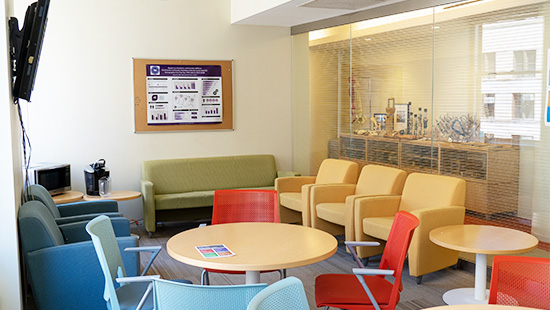 David Rubin ('47) Faculty Research Office
The David Rubin ('47) Faculty Research Office is a gift of Judith Rubin in memory of her late father, David Rubin, MD. This generous gift sponsors important faculty space that enables NUPOC to continue Rubin's professional devotion to serving those who live with physical disabilities.
Browse the NUPOC Gallery
The NUPOC Gallery exhibits are a tribute to the intersection of science, technology and art in our profession.